One thing any event planner will tell you is that making in-person connections is a powerful thing. But, while our current social distancing status is the most obvious, there's plenty of reasons why it isn't always easy or feasible to bring people together in a shared space. It's why virtual meetings and events were growing in popularity long before the COVID-19 pandemic, and now, well-organized and engaging virtual events are more vital than ever. In this blog post, you'll learn how AI can help you create successful AI-augmented virtual events.
Here's What Not To Do
I recently attended, or rather tried to attend, a free virtual screening of Ishmael Reed's stage play, The Haunting of Lin-Manuel Miranda. Hosted by the beloved Nuyorican Poets Café (NPC) in New York City, a recording of the play (originally staged and recorded by NPC) was to be broadcast via Zoom. Due to the large number of viewers in attendance (I assume), the event coordinators opted to offer a live stream on Facebook to contain the Zoom spillover. Being the chronically-5-minutes-late person I am, the Zoom meeting was already full by the time I was ready to watch, so I mentally prepared myself for a certain dip in picture and audio quality as I began streaming it from the café's Facebook page.
Unfortunately, my expectations were significantly higher than the end result, and the video and audio—as pixelated and distorted as what I would have taken on the flip phone I had back when George W. Bush was in office—was simply unwatchable.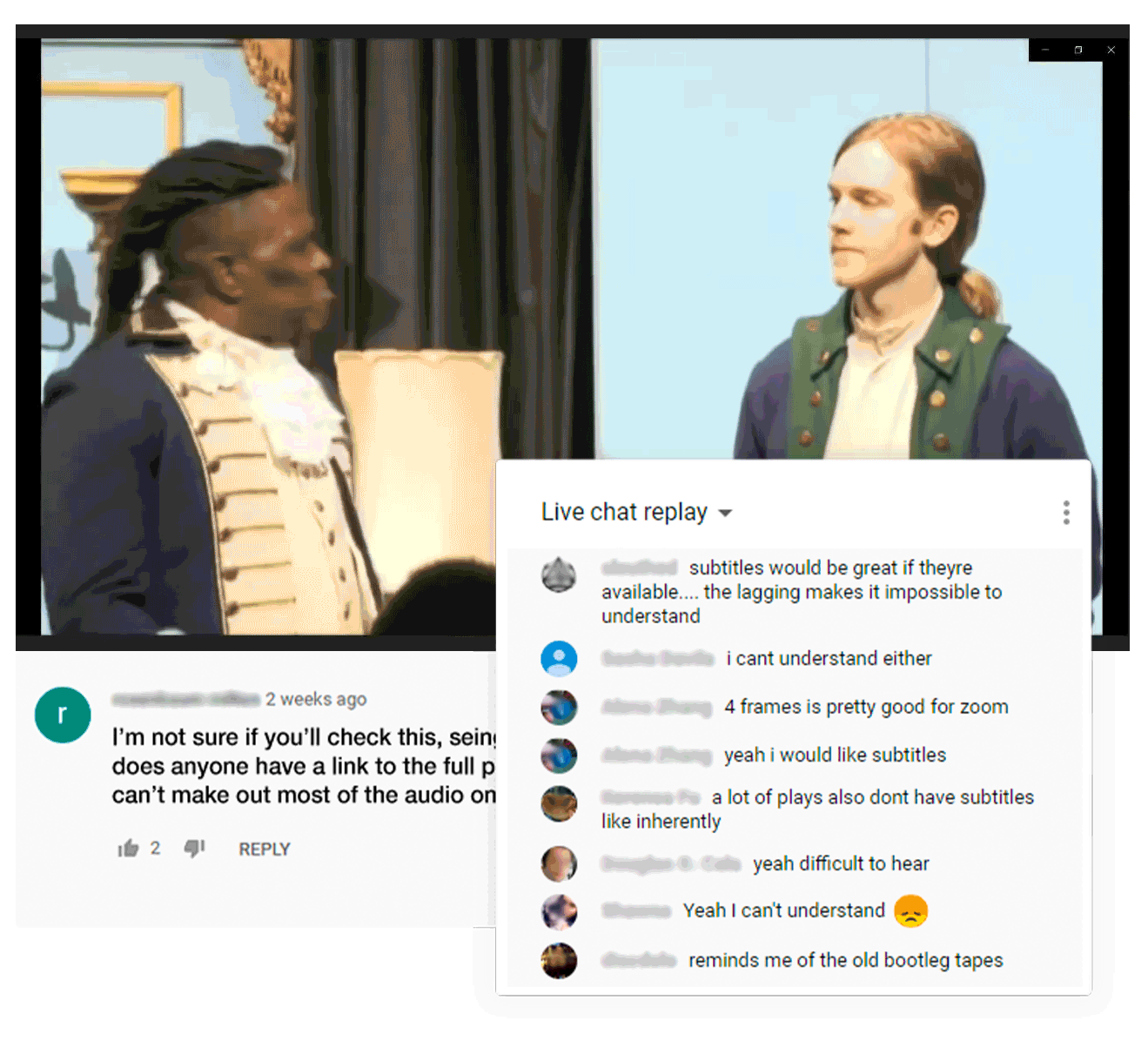 It might sound like I'm dragging NPC here, but, truly, I'm not. Broadcasting Reed's play—a vital rebuttal to both the obsequious Hamilton and its creator, funded by none other than the late, great Toni Morrison—for free, in the middle of a pandemic, just as Disney prepared to release a cast recording on its streaming platform, is a public service. However, the unwatchable live stream of The Haunting demonstrates that despite the best of intentions, inadequate planning can hamper (or ruin) a virtual event with ease.
How then do you ensure your organization's virtual events not only run smoothly but dazzle and provide value for your audience? Here are a few ways you can utilize AI that will undoubtedly yield myriad benefits at every touch-point.
1. AI-Powered Event Prep
Leading up to your virtual event, Digital Agents can generate buzz by proactively reaching out to contacts in a variety of different ways. Humach Digital Agents for example, have several different pre-event conversations you can customize to invite contacts to your event and maximize attendance. They can even gauge a contact's level of interest by analyzing how much (or little) they've recently engaged with your brand.
So, what if it's not your event? Maybe you're a guest speaker for an event thrown by another organization and you'd like to generate some awareness for your segment? No problem. Digital Agents can contact individuals from an event guestlist, reference the scheduled event, introduce your product, service or company, and ask if they want to setup a call to learn more.
→ Free Guide: AI for Virtual Event Planning
2. Give Attendees Engaging Experiences
During the event itself, AI can fill different, but no less important roles. For starters, advances in the field have led to easily crafted virtual stages which can add an extra layer of polish to even the most spartan presentations – no green screen required. It's a simple way to make your virtual event more powerful than a live-streamed PowerPoint or watching a speaker via webcam.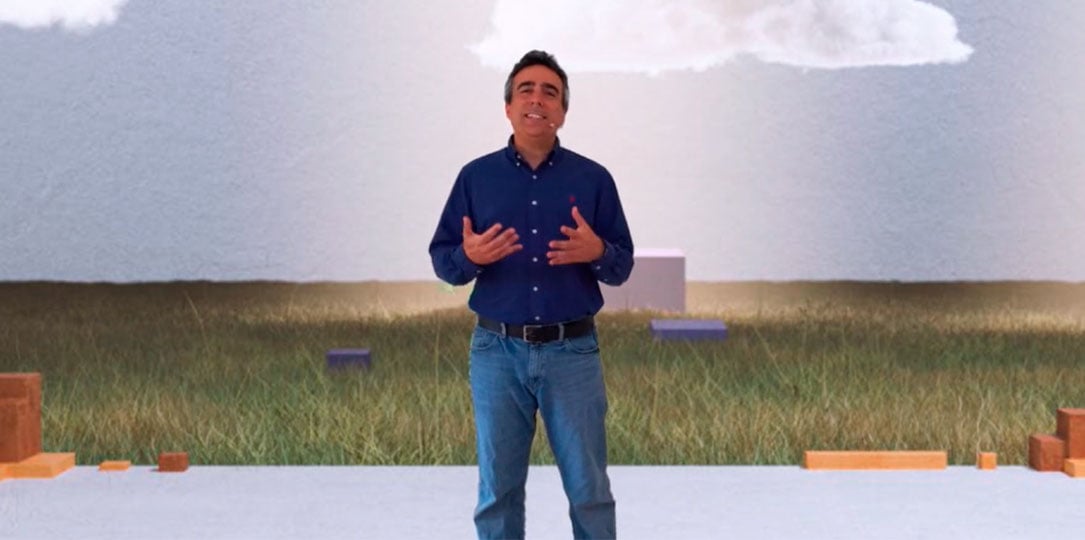 Source: Microsoft
Automation and AI also makes it easy to quickly and efficiently segment event attendees into groups according to mutual interests, specific industry, career fields, etc. Depending on the type of event you're planning, your Digital Agents' sorting work will make breakout sessions and small group discussions exponentially more productive. Furthermore, AI-powered Digital Agents can assist with troubleshooting and/or FAQs for people unfamiliar with your virtual platform, to ensure they "arrive" to your event on time. Best of all, there's no need to download an app or create an account; the only interface Digital Agents need is conversation.
Should your virtual event planning include a Q and A session, AI can improve that too. How many times have you found yourself in the audience of a Q and A session that was cut off just when it seemed to get going? With Digital Agents responding to a pre-determined range of questions, you free up more precious time for meatier subject matter, the kinds of thought-provoking questions that lead to deeper understanding.
Finally, from a logistical standpoint, utilizing Digital Agents will help you deal with the unique challenges of addressing large groups of people remotely at a time when it's crucial to do so. As it becomes clearer and clearer that we will have to spend a much longer amount of time in quarantine than we initially expected, thinking of ways to expand your organization's audience beyond who can fit in a room will help your team weather the storm and grow through adversity.
3. Finish With The Follow-Up
After an event, Digital Agents can assist with (or even perform) the final piece of virtual event planning: the follow up. Not only can Digital Agents follow up with event attendees to gauge the success of the event, thereby streamlining data collection and analysis, they can also reach out with customized emails to people who registered too late, watched the recorded version after, or missed the event altogether.
Digital Agents can also target contacts who interacted during your event. For example, if a contact asked a question during Q and A, the Digital Agent can send a follow up email referencing their question and drive the conversation toward a call with a member of your team for more information.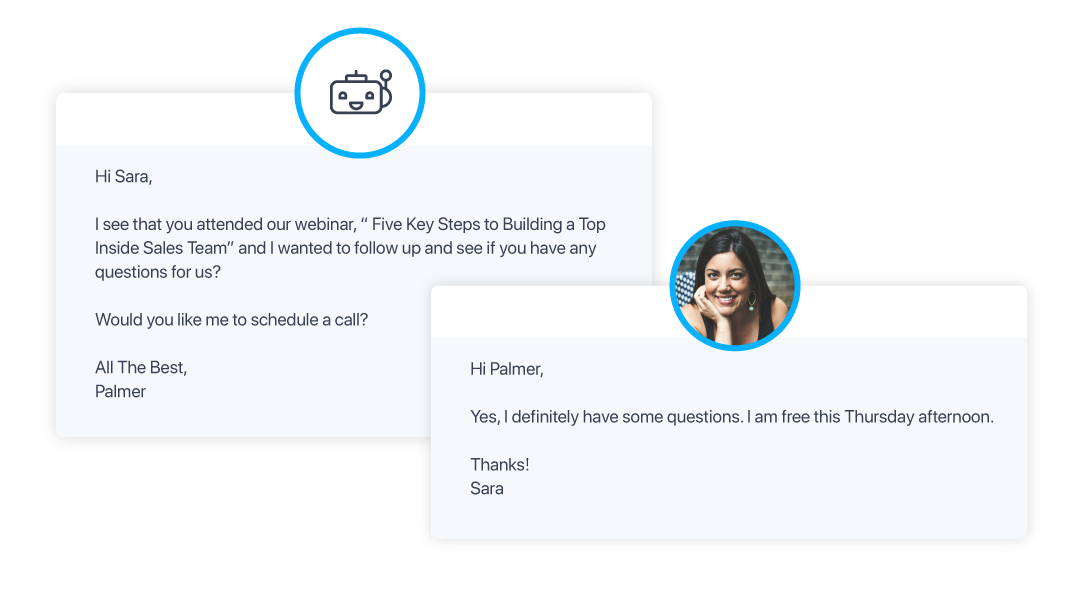 ---

Going virtual comes with a long list of benefits like safety, retention, inclusivity, and cost-effectiveness, but they can also (when executed properly) facilitate connections with a broader audience that are just as real as if they happened in-person. Whether you're preparing for a traditional webinar or something more ambitious, putting AI and Digital Agents to work in smart ways will streamline the planning process and help you maximize engagement with your customers. If you're looking for more event planning tools and webinar resources, check out our free Digital Agent guide!

Helpful Resources