According to Gartner, 15% of all customer service interactions will be handled solely by AI. Whether you're part of the 31% of companies
who invested in AI (
Accenture
), or are still conceptualizing how the technology can be used, it's important to understand how Digital / Virtual Agent technology works. 
What's the Difference? 

Most chatbots and IVR remain automated and separate in most organizations, but Humach Digital Agents use AI, machine learning, speech recognition, and Natural Language Processing (NLP) to interact seamlessly with users on every channel. They have a wide variety of unique skills and capabilities making them virtually indistinguishable from their human counterparts– they just never rest or take a vacation, and they're substantially cheaper. 
AI-Powered vs. Rule-Based
The most common digital/virtual agents are rule-based, or sometimes referred to as decision-trees. You've probably had a few not-so-awesome experiences with one in the live chat on a business' website or through their social media. Rule-based digital/virtual agents are static and only support basic conversations designed by humans using "if/then" logic.
For example, a user says, "How do I contact customer support", the agent automatically responds, "By visiting our contact us page", etc. Rule-based digital/virtual agents only interact using a predetermined conversational knowledge base so they can't comprehend context or understand user intent– which is what makes interacting with them so infuriating. They have no capacity to learn or become more intelligent overtime so any conversational exceptions require additional work from the user.
Humach Digital Agents are AI-powered and complexly programmed using Natural Language Processing (NLP) and Machine Learning (ML) algorithms which allow them to learn each time they interact– just like humans. They extract key pieces of information from the user's input to decipher and understand intent, then provide the best information and assistance.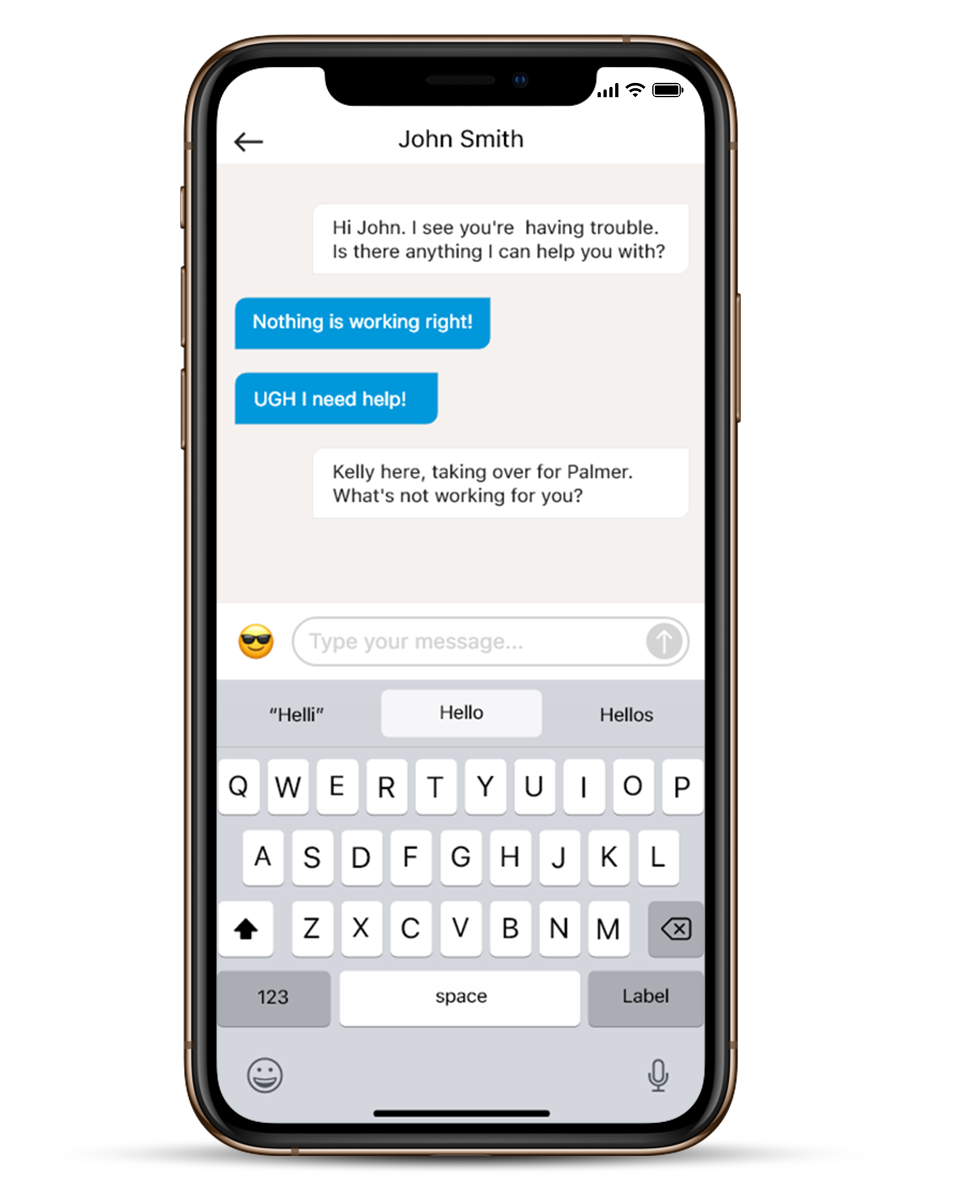 What happens when Digital Agents don't understand?
Just like humans, Digital Agents don't know and understand everything right away—they must be trained, taught and maintained. We use an AI active-learning strategy called Human-in-the-Loop (HITL) which allows them to learn and constantly improve. Here's how it works:
Digital Agents are self-aware and handle user interactions using a specific confidence score. For example, if a Digital Agent isn't at least 70% confident it understands and can provide a correct response, they notify a human who then takes over the conversation and provides the correct resolution. Once the human has resolved the user inquiry, they label the conversation to explain and train the Digital Agent so it understands that intent moving forward. 
The Human-in-the-Loop interface is a constant feedback loop that identifies and eliminates areas of Digital Agent uncertainty to improve the accuracy of AI and overall user satisfaction.
Skills
Humach Digital Agents offer a wide variety of unique skills to interact with all kinds of customers. For example, Digital Agents can understand human speech in over 100 languages to respond and interact with users authentically. They can authenticate callers with voice biometrics, process PCI-compliant payments, look up orders, survey customers and answer all kinds of questions – on any channel, at any time.
Digital Agents Are Employed Like Human Agents
Similar to outsourcing human agents, Digital Agents are purchased and paid for as long as they're needed, on a monthly basis.  
---
How Will Your Organization Benefit? 
1. Faster Resolution Time and Improved Customer Experience
Humach Digital Agents expedite resolutions by handling time-consuming, repetitive tasks and interactions and seamlessly escalating to live, human support for more complex inquiries. A recent study from Smartsheet reports that over 70% of workers spend at least 25% of their work week on manual, repetitive tasks and say the biggest opportunity of automation lies in reducing time wasted on repetitive work. Delegating these time-consuming, manual tasks lets your humans get back to doing work that creates value, magnifying your team's efforts by at least 10X. 
2. Reduced Cost, Headcount and Attrition
According to Nemertes, the number one business goal for AI in digital customer experience is reduced cost (60%); meanwhile, reports across the board confirm that the implementation of Digital Agents significantly reduces operational costs.  By speeding up response times, freeing up human agents for more challenging, high-level work, and answering up to 80% of routine inquiries, IBM says Digital Agents can help reduce customer service costs by upwards of 30%.
3. Increased Compliance 
Humach Digital Agents are critical for ensuring regulatory compliance. For example, PCI-compliant digital agents can collect credit card, address, and other sensitive personal information without needing live agent assistance, ensuring the data remains safe and private while freeing up human agents to handle higher priority tasks. Similarly, HIPAA-compliant agents can collect patient record information and help organizations avoid fines and penalties that range from $500-$5,000 per violation. 
4. Easy Implementation
How good is the latest and greatest technology if it's too difficult or time-consuming to implement? At Humach, our team of customer experience experts and technical implementation specialists handle all the heavy lifting by designing and developing Digital Agents that leverage the latest advances in speech recognition and natural language processing to handle all your key customer touch-points. The days of licensing and managing multiple vendor services are over. 
---
How to Get Started
Digital Agent implementation does have a lot of moving parts and may sound labor intensive, but it doesn't have to be an all or nothing move. The right technology provider will evaluate your operation, assess your customer journey, isolate key touch-points, and design an implementation plan that will offer your operation a seamless transition.  
The easiest way to start is by focusing on basic agent capabilities like setting up an automatic callback feature to reduce wait time or offering automated scheduling and reminders across the customer's channel of their choice. If you've already deployed Digital Agents for these types of standard resolutions, consider more advance applications like replacing touch-tone menus for natural conversations. 
It's important to note that all Digital / Virtual Agent solutions are not the same. To ensure the best solution for your operation, here's a guide for evaluating vendors and technologies for AI-powered Digital Agents:
• Can they interact with users on any platform?
• Can they interpret, understand and speak a wide variety of languages?
• Can they escalate to live, human agents for high-level resolutions?
• Can they escalate important interaction information to human agents?
• Can they engage customers authentically in two-way, natural conversation?
• Are they interacting in a secured, controlled environment?
• Are they PCI and HIPAA-compliant?
• Are they trained in real-time or do they require scheduled maintenance?
• How are they trained? Who is responsible for education and maintenance?
• Will they improve my revenue conversion rates and reduce operational costs?
• Will they tag keywords for intent and sentiment?
---
We're Here To Help
To learn more about using technology solutions like AI-powered Digital Agents and chatbots, get in touch with us. The Humach team is happyto evaluate your operation and discuss touch-points that can be augmented by AI-powered digital solutions to better serve your employees and customers while improving your customer experience and reducing your operational cost. You can also request a demo to see, first-hand, how your operation can benefit from Humach's AI-powered Digital Agents.
Helpful Resources