At Humach, we see our human agents and our digital ones as distinct, essential entities, each with a set of strengths and weaknesses. Neither is in competition with the other, nor could either party create the quality of customer service we strive to provide on their own. Simply put, the value of AI lies in its ability to support human workers rather than replace them. Whether you're hesitant about AI implementation and would like to know more about it, or you're part of an organization that wants its existing AI system to do more for you, your customers, and your agents, this blog highlights ten areas where thoughtful deployment of conversational AI offers immediate benefits for your organization.
1. Fewer Help Tickets Logged
An oft-touted benefit (and rightly so) of AI is its ability to understand and provide resolutions for routine customer requests. Digital agents can be used as a customer self-service tool for things like username and password resets, setting and managing appointments, reminders and notifications, order management, lead generation, PCI compliant transactions, and a wide variety of other use cases. Delegating the majority of these time-consuming, manual requests to digital agents, frees up your human agents to work on more high-level requests, which makes them more valuable to your organization.
Why is offloading tedious tasks from human agents so important? Because a 2017 study from Gartner showed that the average business allocates 84% – 88% of their budget to labor, making it the biggest budget item for service desks. Furthermore, their 2019 CIO Study showed that the number of enterprises employing AI has grown 270% over the past four years as a result of acute talent shortages. No matter how good human agents are, they can be hard to find, even harder to scale, and by nature, have capacity limits. Digital agents though, operate with infinite availability and capacity.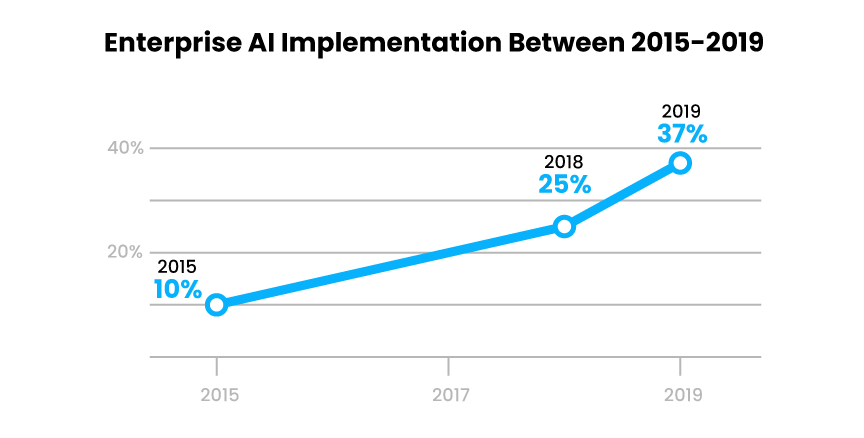 2. FAQ Knowledge Base
While agents enjoy the decrease in help tickets, customers can enjoy easy access to FAQs and other important information at any time. Rather than scour a list of other people's questions, hoping to find an answer, 60% of American customers prefer using a digital self-service tool where they can simply ask for what they need.
Furthermore, digital agents can also be implemented as an FAQ knowledge base tool for inward-facing, agent-assistance, providing employees with quick access to helpful information in live resolution scenarios.
3. Seamless Escalation
One of the most helpful characteristics of using AI with digital agent is its ability to seamlessly escalate to a human when needed. If the digital agent is unsure how to resolve a customer request or needs assistance with a high-level inquiry, the digital agent alerts a live agent to step in to assist.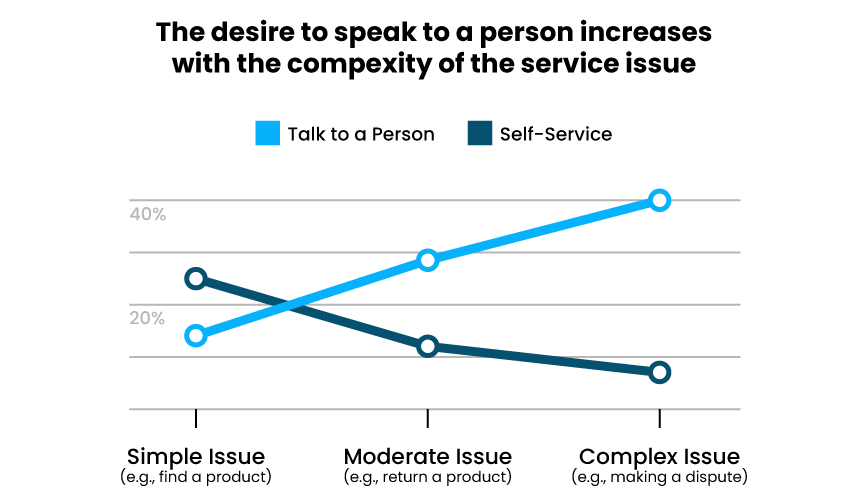 4. CRM Integration
One of the greatest strengths of AI technology lies in the fact that it doesn't so much comprise a platform, but rather a set of tools that integrates with and enhances your existing system(s). Whatever your current CRM platform may be, integrating AI gives you faster access to critical customer interaction data and insights you need, as well as help you put that information to use, strengthening your organization's relationship with its customers.
Over at Saaslist, Reuben Yonatan provides a handy listicle of how AI can improve the CRM. For example, while transcribing and analyzing customer interactions, AI can employ sentiment analysis to help gauge a customer's emotional/tonal response to determine the effectiveness of a given customer service strategy.

5. Lead Generation
Similar to how you can apply AI to CRM practices and increase customer engagement, your organization can also leverage website traffic and any associated data into leads and, eventually, sales. While you will still need your human sales team to grow business relationships, bots can ask qualifying questions, collect customer information, and conduct follow-up actions to capture new leads and nurture existing ones.
6. Personalized Conversation
Though I generally feel that trying to pass digital agents off as humans is a risky proposition that more often than not ends in the uncanny, that doesn't mean your digital agents can't be personable and provide your customers with an interaction tailored to their individual experience. In fact, 79% of consumers say they're only likely to engage with an offer if it's personalized to reflect a previous interaction with the brand.
Digital agents can distinguish between a new and returning customers and tailor its messaging to recall their name or behaviors from a previous interaction. Learn more about digital agent personalization in our post, 'How to Humanize Your Digital Interactions'.

→ Download: Free Digital Conversation Templates
7. Scheduling
It's hard to imagine anyone working today who has not, at some point, felt the fatigue of the seemingly never-ending game of email tennis that is trying to schedule (or update the time of) a meeting. In his book, Designing Bots, Amir Shevat describes a digital agent purpose-built to solve this problem. Digital Agent, Amy Ingram, as "she" is known, can be brought into a scheduling conversation at any time by CCing her email address, whereupon Ingram will take over the conversation and report back with times for any meetings scheduled (about 300 a month for Shevat!).
AI can also easily cancel and/or reschedule meetings in a fraction of the time it would take to have a traditional email conversation. Case in point, a digital agent I helped create while working for InfinitAI was able to parse phrases like "Change my meeting with X to next Friday at 10," into a specific date and time. Furthermore, digital agents can also follow-up with customers to provide appointment or meeting reminders via voice, email or SMS.
8. Outage Notifications
While this entry on the list may be straightforward, it is important, nonetheless. Relying on automation to inform both you and your customers of service or website outages saves time and energy for both parties. Digital agents can notify customers in advance for regularly scheduled maintenance or provide quick alerts and follow-up information for unexpected outages. This will help your organization rectify outages sooner, while maintaining an open and transparent dialogue with customers.

9. Multilingual Support
Another entry that speaks for itself: if you're conducting business in 2020, you will invariably encounter a language barrier that your staff is not equipped to handle themselves. Thankfully, companies like Google and Kore.ai have made great strides in incorporating languages other than English into US-based AI technology. For example, a Humach digital agent has the ability to support over 120 languages.
10. Compliant Transactions
Credit card payments consume time and resources, and open your business to potential compliance violations with fines that range from a staggering $5,000 – $10,000 per month. ACID compliance, a set of properties that ensures your most sensitive transactions (like monetary transactions, sharing of personal data, etc.), are more important now than ever before. Thankfully, AI can process these transactions twenty-four hours a day and help organizations remain compliant while keeping costs down. For an overview of ACID compliance and how transactions work, click here and here.
---

We hope you found this article informative and helpful. If you'd like to know more about our AI-powered digital agents, check out our Digital Agent Guide!
Helpful Resources